CLICK HERE TO RETURN TO HOME PAGE
OR USE BACK UP ARROW TO RETURN TO LAST PAGE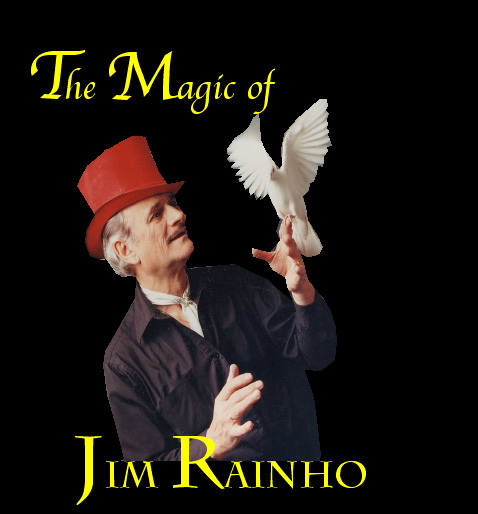 With a sixty-six year career as a professional magician, performing over 20,000 shows.
Jim Rainho is one of the most experienced magicians in the Boston area with an impeccable reputation with International credits. His professional career takes him from private living rooms to the most elegant clubs; from church halls and school halls to theaters, hotels, large auditoriums, night clubs, and television both in this country and abroad.



"James Rainho produced astonishing feats with birds,
candles, silk scarves and flaming torches
(including a dazzling fire-eating demonstration)
framed within a playful yet sophisticated continental milieu."
....South Shore News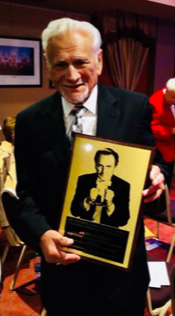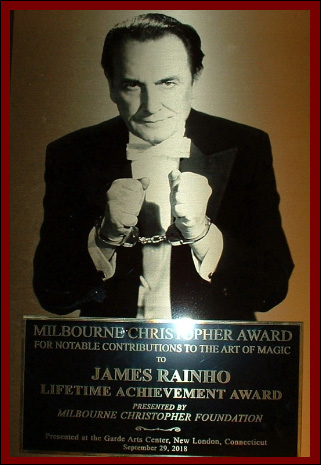 **
JIM RAINHO
Magician
JIM RAINHO
awarded the
Milbourne Christopher Foundation
Lifetime Achievement Award
Magician Jim Rainho was honored with the prestigious Lifetime Achievement Award by the Milbourne Christopher Foundation for his lifetime achievements as a performer, inventor, and teacher of magic as a perform- ing art.
Mr... Rainho had a national and international career spanning 60 years with over 22 thousand performances and over 130 magic inventions, some of which are on display at the David Copperfield and in the Jeff McBride Magic Museums, both located in Las Vegas.
The Christopher Foundation was incorporated in New York State in 1991, to sponsor achievement awards that spotlight the best that magic has to offer contemporaneously in performing, invention, writing, and publishing.
Jim Rainho was also involved in Country Music as a guitarist/singer, and songwriter with published works to his credit.
He was born in Portugal, came to the United States when nine years old, grew up in Cambridge, Massachusetts, started his magic and music career when seventeen years old, served in the armed services in Korea, and on his return, continued his lifetime career as an entertainer.
He married Alice Costa, moved to Medford, MA, and has four children: Donna Crawford, Diane Silvio, and Stephen, all of Medford, and Rachel Perry of Waltham., MA.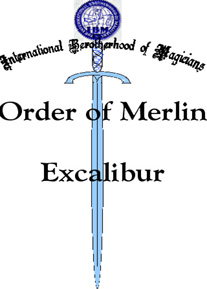 Jim Rainho was recently inducted into the
Order Of Merlin - Excalibur Award
of the International Brotherhood of Magicians
Jim is the only New England performing magician in this prestigious classification.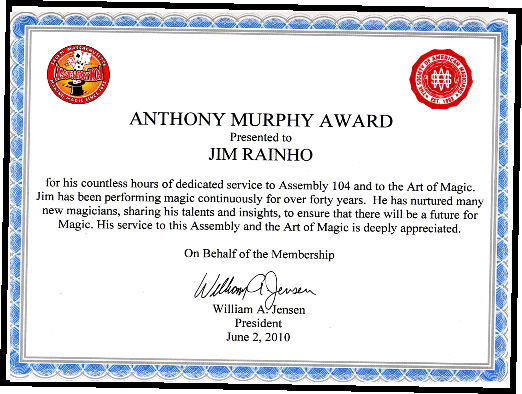 In June 2010, Jim received the
Anthony Murphy Award
of the Society of American Magicians - Assembly #104..
INTERNATIONAL BROTHERHOOD O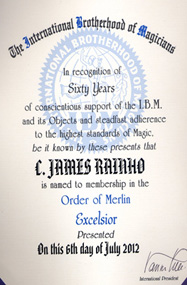 F MAGICIANS'
Order of Merlin - Excelsior Award
Jim was inducted into the Order of Merlin Excalibur, the highest degree of the
International Brotherhood of Magicians,
issued at the organization's annual
convention in Norfolk, Va., 2012
Boston's Best!

In the Fall of 2009 Jim Rainho celebrated his 60th. year as a professional Magician.
A gig in the Fall of 1949 at the Memory Lane Club in Somerville, Massachusetts
was his first Professional Night Club engagement where he substituted for magician Sammy Lyman.

From September 1990 to April 2013 (almost 23 years) Jim Rainho performed weekly for a national company at their training seminars banquets. For the first ten years it was twice weekly. This also took him around the world for their International seminars. For personal reasons Jim retired from this activity in April, and was presented with a company bonus for his service.

(Contractual agreement prevents Jim from naming or referencing the company.)

Jim Rainho was recently featured in a Boston Globe
newspaper article on Corporate Entertainment.

Jim is the only active performing magician in New England in
'Who's Who In Magic' (Page 265)
and in the 'Encyclopedia Of Magic & Magicians' ( Page 55)

Will not play on some versions of Safari
Log on with Google Chrome




---
MEMBER OF:
The International Brotherhood of Magicians
(Order of Merlin - Excalibur),
Society of American Magicians,
Psychic Entertainers Association,
Associação Portuguesa de Ilusionismo,
International Magicians Society,
Haunt Hunters.

ANY AGE - 5 TO 105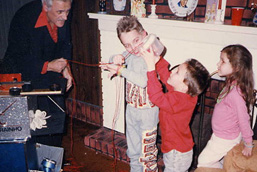 ...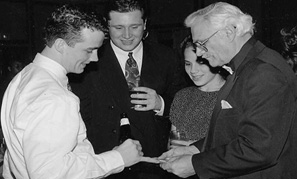 ...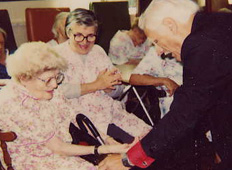 JIM HAS ENTERTAINED THEM ALL
Because Jim is also an inventor and fabricator
of magic tricks you are sure to see
magic that no other magician is doing.

GOOD OLE DAYS -----------40s, 50s, 60s

......
...
40s & 50s NEWSPAPER SHOW NOTICES AND PRESS RELEASES

...

--------------------------------------1949----------------------------------------1950---------------------------------------------------


...

-----------------------------------------1952-53------------------------------------------60s---------------------------------------------------

...
BUSINESS CARD - 40s -----------------BUSNESS CARD -60s

---

...
FRIENDS & PEERS ROAST JIM RAINHO ---------INTERNATIONAL COVERAGE
WHEN JIM PERFORMED IN PORTUGAL AFTER LEAVING THERE 50 YEARS BEFORE.

Brief Bio: (Just in case you care)

Jim Rainho has been a professional entertainer most of his life. He was born in Fermelã in Portugal and immigrated to the United States as a youngster.

He started doing magic as a hobby at the age of ten. Although he lived in the Northeast, he became fascinated with western (country) music and learned to play the guitar. From the age of fourteen to seventeen he worked summers in the Revere Beach (Massachusetts) side shows doing magic and assisting magician Ed Arno.

He organized his own western music band (The Rhythm Ramblers) in 1948 supplying western dance music for such venues as the Jerry & Sky (local Massachusetts) cowboy music radio personalities) traveling show of which, Magician Silent Mora, was a regular feature.

Jim also joined the Ranger Red (New England Western music personality) Show touring the entire Northeast, Eastern Canada, and the Provinces.

During this time, Jim wrote several western songs that were published by Central Songs and by Hill & Range Music. All together Jim wrote over 100 songs. (see below) Along with his music activities, Jim developed a nightclub magic act that he performed in nightclubs around the New England area and featured in the Ranger Red Western Shows.

Jim invented many of the tricks he performed which he eventually manufactured and released to magicians worldwide under the SIMPLEX MAGIC label. Some of his creations are: Electronic Production Candles, Flame of Kan-Del, Fountain of Silks with Candle Production, Fountain of Silks with Dove Production, Color Changing Records, and many more. He has also contributed to magic periodicals, such as: Linking Ring, MUM, Genii, Vibrations, Ireland Magic's Year Books, etc.

After returning from a stint in the Army in Korea he returned to school and became an electronics/sound recording technician/engineer and opened an electronics shop and recording facility (Atlantic Electronics) in Cambridge MA. Two songs recorded by Pete Lane, that made the charts on the Imperial Records label, were first recorded in Jim's facility. Jim sold Atlantic Electronics in 1960 and returned to performing his magic act but on a limited basis to concentrate on raising a family and on manufacturing his magic creations.

The Encyclopedia of Magic & Magicians credits Jim with the trend of using candles in magic acts. He began performing full time again when his children were out of High School and he has been at it full time since, playing every type of venue with his Magic & ESP shows. He is still one of the busiest Magicians in the New England area. Jim has performed in almost every type of venue in show business; night clubs, television, stage reviews. He was contractetd to appear in the 2009/2010 New Year's Reveillon Celebration in the Portas Do Mar Pavillion in Ponta Delgada in the Azores. (see photos below)

He still invents and fabricates magic equipment sold by leading magic shops around the world and through the Internet. He also lectures and teaches magic classes.

Jim's hobby is collecting B Western movies. He has a vast knowledge of the genre.

JIM WAS A FEATURED ACT AT THE 2009/2010 NEW YEAR'S EVE GALA (Reveillon) BANQUET
IN THE "Portas do Mar" Pavilion in PONTA DELGADA IN THE AZORES.

Banqutet----------------Poster advertising Jim's Magic Workshop----------------Banquet

Kid's show on TV (screen shot)


Hear some of Jim's Original Songs


CLICK BELOW:

---




FOR INFORMATION ON ANY OF THE SHOWS OR SERVICES CONTACT
JIM RAINHO AT ABRA-KADABRA MAGIC SYSTEMS.
BROCHURES AVAILABLE.
.

Phone: 781-391-4104


email at: magicjim@rainho.com
© 1998 - 2003 - James Rainho / Abra-Kadabra Magic Systems