Over 100 items, large and small. Lots of dove stuff,
SOME CUSTOMIZED, AND ONE-OF-A-KIND ITEMS - OVER 200 BOOKS, PERIODICALS - PAMPHLETS
Some Vintage & Collectables
Lecture Notes, Catalogs, Promotion/Marketing, Tarot/Psychic
Check out the lists.
Then check out our SIMPLEX MAGIC CATALOG - CLICK HERE
CLICK HERE TO RETURN TO MAIN HOME PAGE


Phone: 781-391-4104.
EMAIL: magicjim@rainho.com

MANY ITEMS LISTED BELOW WITH ASKING PRICES
INTERESTED PARTIES CALL NUMBER ABOVE OR EMAIL, TO SEE IF ITEM IS STILL AVAILABLE, AND ALL OTHER INFORMATION; EMAIL ME WITH QUESTIONS ON ANY ITEM - YOU'LL GET AN HONEST ANSWER.

SHIPPING INFORMATION:
CALL OR EMAIL TO GET APPROXIMATE SHIPPING & INSURANCE FEES FOR ITEMS YOU WANT TO PURCHASE. SHIPMENT OVERPAYMENTS WILL BE REFUNDED..


NEW ITEMS JUST ADDED
ADDED MAY 2016
(SCROLL DOWN)
ATTENTION
MINIMUM ORDER AMOUNT IS $25.00 IN MERCHANDISE.
ALL SOLD AS IS - NO RETURNS - ALL IN WORKING ORDER, SOME LIKE NEW
CLICK ON LINKS BELOW TO GO TO:
ALSO HUNDREDS OF
BOOKS - MANUSCRIPTS - PAMPHLETS - MAGAZINES
(CLICK HERE for Page 2)
MAGIC, HYPNOTISM, MENTALISM, COMEDY, TAROT CARDS, COLLECTABLES,
LECTURE NOTES, MAGAZINES, ETC.
SPECIAL NOTICE TO 'OLD MAGIC' DEALERS & COLLECTORS
If you are interested in the entire content of the two pages, let's talk.
(Serious replies only - please)
SALE CONDITIONS:
Read description of item before you order, or call Jim at 781-391-4104 to find out further information on item. All sales are final. There will be no returns unless item is damaged in transit, in which case there will insurance coverage. ALL ITEMS ARE SHIPPED WITH INSURANCE, except for overseas sales.
ITEMS ARE LISTED ALPHABETICALLY & DELETED OR MARKED AS 'SOLD' .
2000PIPS -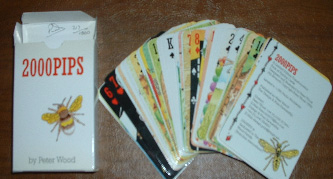 By Peter Wood - UNIQUE DECK OF CARDS-
A limited edition deck of playing cards from artist Peter Wood. These full color, transformation playing cards are printed to the highest quality and were limited to 1,000 decks.
With very colorful and detailed drawings, this deck is a plus for any card collector or serious card player.
This deck is umbered 217 of 1,000 printed.
Once these decks are gone, THAT'S IT!! - RARE (Signed and numbered on the inside of box flap) - PRISTINE - $100.00.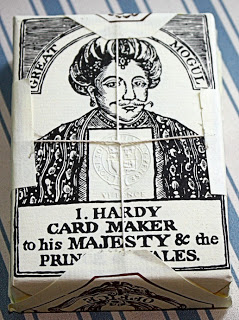 ---
"GREAT MOGUL" PLAYING CARDS - This is a cool reproduction of Victorian cards. The cards have symbols ie diamonds, but not numbers ( most people couldn't read then) and the backs of the cards are blank. I.Hardy Card Maker "Great Mogul" Faro Playing Card Deck, never opened with the imprinted seal and string tied,these cards are hard to find in today"s gambling collectors market. Some sell for as high as $100. These cards are sometimes used to play Faro in the old early western cowboy movies.These are Dutch produced cards with no numbers or indices as were produced prior to 1876.Produced on thick card stock. -
UNOPENED - NEW - $90.00
---
HAVE ANOTHER DECK THAT HAS BEEN OPENED, BUT NOT USED.
$75.00
---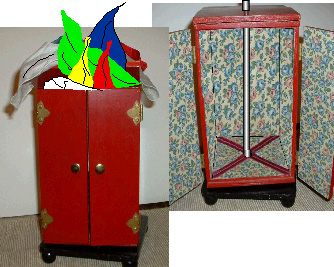 HANSON PIVOTING CABINET
Collector's Item. This cabinet was personally made in 1949 in a batch of six, This is an original Herman Hanson made prop. Just as he made them. No Oriental appliques or other designs.
The cabinet sits on a 4 ball leg stand, on a metal rod centered on the stand. Open the two doors showing the entire inside, Swivel pivot it all around showing no attachments Close the front doors, and open the two doors on top. Produce a large load of silk hankies. The gimmick can be stolen out as you produce the silks,
BUT WHY WOULD YOU DO THAT???
THIS IS A COLLECTOR'S PIECE.
I used it in nightclubs in 1949 and 1950 - then before going into Military Service I placed on a shelf where it has been on display for 68 years. I'm not a collector, but I treasure this piece because it was made by a man I called a friend.
I hate to part with it. but time has deemed it so. I'd like to have it go to a person who will treasure it as I have.
------------$300.00------------
---
---
THE ZODIAC DECK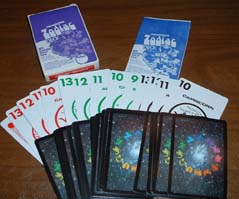 ZODIAC DECK (MARKETED BY JOHN FABJANCE) This is an ORIGINAL, UNOPENED DECK. ALL THE ZODIAC SIGNS PLUS A CARD WITH ALL THE SIGNS IN A CIRCLE, in sets of black, blue, green, and red. 52 Zodiac cards, PLUS a MOON and SUN card. -
HAVE 10 DECKS - $20.00 ea. - while they last.
SEVEN SOLD
---
PHENOMENA DECK -

Angelo Stagnaro - The Phenomena Deck is designed to work like a normal deck of playing cards so that most known card tricks could be performed with it. The deck consists of 13 symbols based on Rhine's original five design and these are set up in four suits of four different colors. That makes a whole deck of cards with 52 cards. Imagine the possibilities one has with this unique deck of cards. The accompanying 48 page book is quadrilingual. English, German, French and Spanish. There are described 11 effects for several audiences. Very young, international, disabled and so on. The back has a one way design. Also there is a short history of Paranormal Research and the development of the Phenomena Deck. IN PRISTINE CONDITION, CARDS AND BOOK -$40.00
---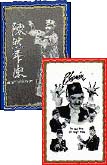 JACK CHANIN VINTAGE PLAYING CARDS (2 DECK SET)
Jack Chanin (1907-1997) was a performer, demonstrator, manufacturer, creator, and magic shop owner. He ran Philadelphia's oldest magic studio, Chanin's Studio of Magic, until 1981. He also performed as an Oriental act under the name Cha-Nin.
One deck is of Jack promoting his standard act, the other is of Jack as Cha-nin, an Oriental wizard. Both decks are still wrapped in their original cellophane wrappers.
The red boxed one was recently on eBay, selling for $34.95. Get this RARE FIND - both deck for $60.00.
---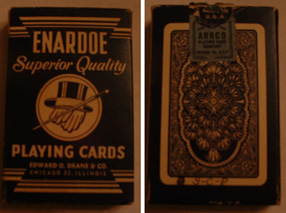 ENARDOE DECK ( VINTAGE STRIPPER DECK - 1940s) By Edward Drane & Co. -This is an original release by Drane, using ARRCO CARDS. The box still has part of the sealing stamp with the ARRCO name. Cards show usage, and the box has some blemihes, but for its ago its in GOOD CONDITION.
--------- $25.00
---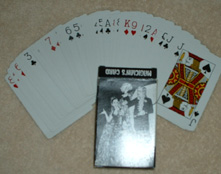 ---
PRODUCTION CARDS
Cards printed on thin stock. Bend easily for back hand productions, etc.
In NEW condition. Japanese made - - - $10.00

SOME INTERESTING DECKS OF CARDS. - - For off-the-beaten-path, presentations, here are some distinctive decks of cards, that lend themselves to specific themes.
---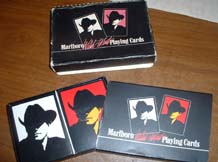 MARLBORO WILD WEST (Promo Decks) Outer box shows wear, but the inside sleeve and card tray are in excellent condition. The cards are still wrapped in their original cellophane wrappers.
TWO DECKS -- $ 25.00
---

#1 - - AN OPTICAL ILLUSION ON EVERY CARD, along with the normal card indices.
---------I'm sure you can create a routine with this deck - even more than one. - - JUST $5.00
#2 - - LeGRAND DAVID SPECTACULAR MAGIC CO. SOUVENIR DECK. A collector's item now. Still ---------in its plastic wrapper. - - - - $5.00
#3 - - BILL NYE (The Science Guy Playing Cards) Along with the card indices, every cards has a ---------scientific term, explanation, principle. LIKE NEW - - - $5.00
#4 - - EUROPEAN NAVAL POWERS - (Portugal, Spain, France, and England)
---------Two decks, one still in cellophane wrapper. Plastic tray with 2 decks side by side. Tray is disfigured ---------at right bottom corner. Cards are in perfect NEW condition. - - - - $10.00
#5 - - ANCIENT CIVILIZATIONS- Showing hieroglyphics and symbols of Egyptian, Sumerian, Assyrian, ---------and Persian cultures. Two decks, One still in cellophane wrapper. Plastic tray with 2 decks side by ---------side. Tray is disfigured at right bottom corner.Cards are in perfect NEW condition. - - - - $10.00
#6 - - NEW CENTURY CARDS -Unique modern design in Bridge Size - - - - Like NEW. Unused - - $5.00
#7 - - "Pour Some Magic" SHERIDAN LIQUOR CO. PROMOTIONAL DECK (52 on 1 Cards) --------Give-away of promo they held some years back. NEW - still in cellophane wrapper. - $5.00
---------I was the Massachusetts magic coordinator for the promo, supplying magicians for events at restaurants, lounges, pubs, etc. and -----------still have some decks. - - - - CARD COLLECTORS TAKE NOTE - - $5.00
#8 - - Hank Lee's CAPE COD MAGIC CONCLAVE SOUVENIR DECK (Could become a collector's ---------item) - LIKE NEW - $5.00
#9 - - MAGIC CONVENTION SOUVENIR DECK of the ESTORIL MAGICO, 1996, in Cascais, Portugal.
--------(Rare here in the States) - - $5.00
#10 - ORLANDO MAGIC SOUVENIR DECK OF CARDS (Basketball team cards) Full deck of Poker size cards with -----------the Orlando Magic trademark logo on the backs - - Good condition - $5.00
#11 - Virginia Slims VICTORIAN CARDS - - SOLD

#12 - SIEZE THE DAY -For People Over 49
---------An oversized deck with 140 cards covering 10 LIFE categories. Intended for interactive activity. Great tool to augment -----------Astrological readings. - - Covers potentials of days, about opportunities around us, etc. - - - IN NEW CONDITION - $10.00
---
OLD GYPSY FORTUNE TELLING CARDS (Rare)
and HINDOO FORTUNE TELLING CARDS (Rare) (CLICK ON - (OLD CARDS)

---
---
($25.00 minimum)
NAMES - (OVER 100 ITEMS - STAGE, CLOSE-UP, KIDS, MENTALISM, VINTAGE & COLLECTABLES
AUTOMATIC COIN TRICK Berland's - VINTAGE - Shooting device on a flat disc to be attached to a pull.. - $ 5.00
BENGAL NET -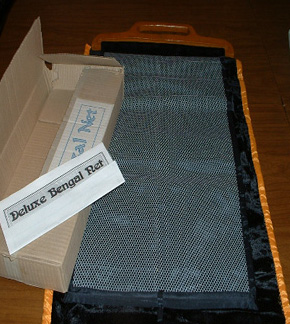 Brand new - Made in India
Still in box - Selling for $40.00 - This one is $30.00
BEHIND THE MAGIC DOOR - White rabbit changes color in a folder - surprise ending - $5.00


BLENDO BAG - Large colorful - German - Like NEW - Large colorful scarf is fashioned into a bag that can be shown empty. Some colored silks hankies are placed inside, the bag is snapped, and it opens out into the colorful scarf. (No silks included) - With instructions. Originally sold for $75.00 . - - - You can have it for $40.00.

BLENDO DYE TUBE. - VINTAGE - LARGE DYE TUBE FOR SILK COLOR CHANGING EFFECTS, ETC. - $5.00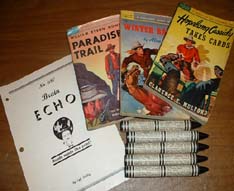 BRAIN ECHO - Syl Reilly - ORIGINAL - VINTAGE
Sometime ago somone, on one of the magic blogs (?) was looking for the instructions for Brain Echo. I have the instructions and the entire outffit. The three book are not in the best of conditions, especially 'Paradise Trail'. The crayons are in good condition (unused) Never got around to using it, although it is a great mental effect. - $75.00


CAGE FOR DOVES -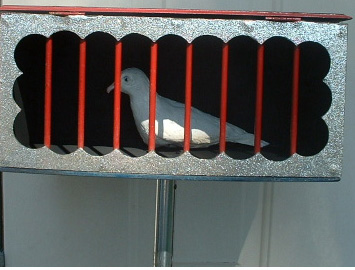 JR - Custom made - one of a kind.
Allows you to change a live dove for a rubber one. Holds up to three doves. Place them in the cage as you produce them - then if you need a rubber dove for a spectacular vanish, get a dove from the cage - and exchange it for the rubber one as dove is being removed. - one-of-a-kind - custom made ---- $50.00


CANE TO FLOWERS Black plastic Fantasio cane turns into a long stem with three flowers on it.. $15.00

CARD BOX - Standard with Magnetic flap. Can be examined., Requires a second magnet to release the flap. Complete. $ 10.00


CARD FRAME -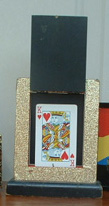 VINTAGE = Decorated in gold sparkle
A selected card can be made to appear in the previously shown empty frame With doors in front and back that can be shown on both sides at same time., with doors open or closed - Vintage. - $25.00


CHRISTMAS (HOLIDAY CHARACTERS) EFFECT -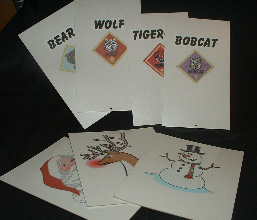 Ala Stop Lite
With surprise climax - custom made - one-of-a-kind - $10.00
(NOTE effect with SCOUTING theme, as shown in photo has been sold.)

CHRISTMAS HOLIDAY SCENE - 36" SILK - $10.00

CHRISTMAS STREAMER 10 FT. LONG X 13" WIDE - NEW - Half is white, other half red, all with Holiday designs. - $15.00


CIGARETTE CONTROL - (Berland's) - 3 pages (5 1/2" X 8 1/2") of instructions with a
8 1/2" X 11" page of illustrations by Tarbell - with special GIMMICK - VINTAGE - $10.00

CIGARETTE DROPPERS (2) - For the production of cigarettes. - vintage -, The old cigarette tank droppers that releases one cigarette at a time with a slight press. Worn under jacket. - $15,00 ea. - ONE SOLD
COFFEE VASE(Morrisey - Brand NEW, still in box - Sells for $75.00 - This one is $65.00
MORRISEY PRODUCTS ARE NO LONGER BEING MADE. HERB MORRISEY HAS RETIRED. BE AWARE THAT FUTURE ITEMS WILL BE COPIES MADE IN EITHER CHINA OR INDIA - NEED I SAY MORE.


COLORED POLKA DOTS STREAMER - White polka dots vanish leaving a black streamer OR vice-versa, Like NEW - $15.00


COUNTERFEIT DETECTOR - Get a dollar bill from someone, but you want to test it first to make sure that it is real. You insert it into a slot in a little machine. Suddenly the bill is seen, through a window, being shredded. $15.00


DISECTO ARM CHOPPER _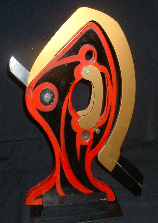 The standard Disecto chopper with a separate stand to hold it upright. .Safety wrap-around for arm. - WORKS FINE shows some wear.NEW, the cost is anywhere from 125 to 175 - Buy this one for $65.00


DOVE CAGE VANISH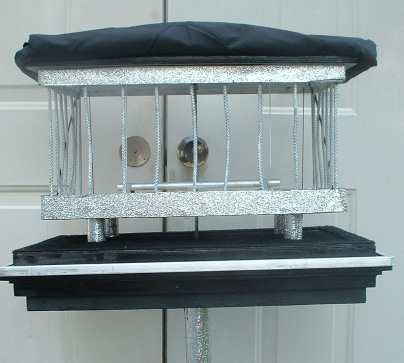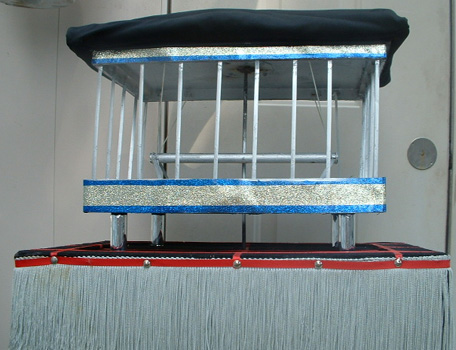 ...VANISHING DOVE CAGES
NOTE that cages stand on the table on legs. You can see underneath the cages.
No other cages being made offer this feature, until copy-cats come along.
custom made (2) Cages do not rest on the table. They are on 4 legs. You can see underneath the cages. Used is standard manner. After doves are placed in cage during act, you drape a cloth over the cage, pick up the cage through the cloth, carry it forth, and SWISH - toss cloth into the air, the cage is gone. I have two cages, one (photo on left) with fringe decoration around sides and front of cage tabletop , the other, (photo on right) has a table top that bevels in by degrees.
Both work pneumatically with control valve to adjust speed of vanish. $100.00 ea.
NOTE: Both have to be shipped in two cartons.
---
ALSO HAVE 2 OTHER CAGES WITHOUT THE BASES AND THE PNEUMATIC TUBES. IF YOU ARE HANDY AND WANT TO CONSTRUCT YOUR OWN BASES WITH CONTROL ROD, YOU CAN HAVE ONE OF THEM FOR $25.00
---
---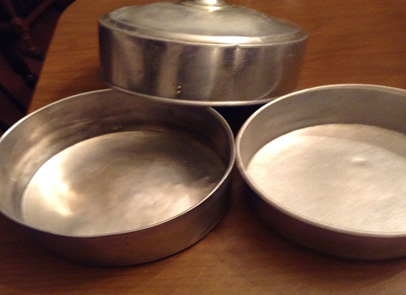 DOVE PAN
Single load - Aluminum
Made by Morrissey - Canada
Size: 8" Diameter - 3 1/2" Deep
Like New
$40.00
NOTE: See Lrg. size pan below under Rabbit Pan
---
DOVE PRODUCTION COTE
SIZE: 9" wide X 4" deep X 7 3/4" high.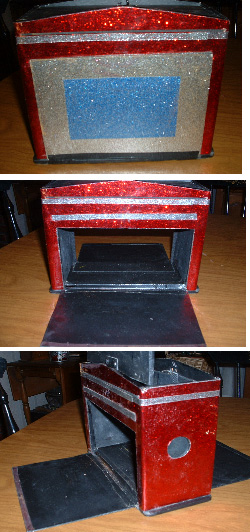 Front and rear door, magnetic latching. Dove loads by top door. Mechanical latch holdes top door shut PLUS holds side flaps in place, under the dove. With front and rear door closed, Release latch and dove drops down into the box,
Show box empty. Insert a white hanky into a side hole and run forward corner out of hole on opposite wall., leaving hanky corners protruding from box.
Close rear and front doors. To produce dove, yank out the hanky as you release the latch, then open front door and remove dove.
$45.00
CUSTOM BUILT ----------ONE OF A KIND.
---
---


DOVE TO SILK SENSATION (MAT) Cloth mat is shown on both sides, folded in half, and a dove is placed in the fold. The mat is snapped open and the dove has disappeared or turned into a white silk hanky. Like new - Tong made. - $20.00
USED MODEL - Not made by Tong-------------same effect..$10.00

---


FIELDS SOBRIETY TEST - A large ball bearing is dropped into a long piece of 1/4" copper pipe. The ball obviously drops out the bottom. Now challenge someone to drop the ball into the pipe and catch it at the bottom. IMPOSSIBLE ! - Yet, magi can do it. Like NEW! - $10.00
---
FLAME OF KAN-DEL

De-Luxe, Custom-made Model

I only made ONE of this particular size, with special heavy brass base - FOR MY PERSONAL USE!
I used in all my 'high-end' shows. THIS IS IT!
Candle is 14 3/4" tall - base is 1 1/4" high. diameter of candle is 1 1/4".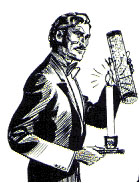 EFFECT: Tall candle on a stand is on your table. You light the candle, show a long tube, that is absolutely empty and place it over the candle, which leaves the flaming top of the candle in view. You show a paper cone, remove the candle from the tube, leaving it standing on the base. You drop the lit candle into the cone. Show the inside of the cone with the flaming candle inside, then crumple up the cone and throw it aside. Pick up the candle base, remove the tube to show the LIT candle back on the base.
ONE OF A KIND.
$400.00
Complete with instructions
We still sell the standard model. See our Simplex Magic Catalog, on the Stage-Parlor Effects page.
Click here for catalog.
The origination of Flame of Kan-Del - for the record. - JR
NOTE: Flame of Kan-Del was created in 1949 with a massive base to hold the battery pack required to fire the nichrome wire available then. Initially sold through Holden's Magic Shop in Boston. (1960) When Holden's closed up, I made it available to other magic shops. With the arrival of new technology, the candle was modified using only two AA penlight cells and a new ignition system.
---



FOLD FLAT PRODUCTION BOX -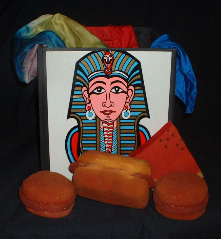 NEW ((2) - ---ONE SOLD
Not the cheap cardboard version. Sturdy fiber board. . - Open it out, show empty and produce load of silks. NEW - $20.00
---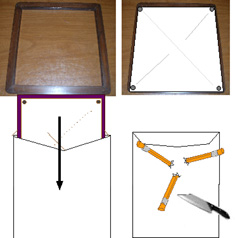 HANKY FRAME
13 1/2" square. with 1" wide wood frame.
Using four push pins secure a stretched out man's handkerchief to the frame. Insert frame into a large envelope and proceed to push pencils through the envelope, and obviously throught the hanky. Then push a large knife and run it sideways across the envelope. Remove the knife and pencils and take out the frame showing the hanky unharmed.
This was a popular effect way back when. This particular frame works beautifully. Gimmick locks in place. Don't know who made it, but it has to be about 50 years old. So, how about a buck for every year.
$50.00 - Can be a collectible???????
It's a GREAT VISUAL effect.

HOBERMAN SPHERE (Great for Science shows) It expands from 9" to 30" in diameter. Open it out and place it over kid's head. FUN ITEM - NEW - Sells at Museum of Science for $35.00 - Get it here for $20.00

HORIZONTAL CARD RISE - Cards are selected from a deck and returned to deck. Deck is placed in a transparent plastic houlette and the selected cards move from the middle of the deck, where they were placed, and move to the front of the deck.
NEW - $ 20.00\
INSTANT ART - Supreme (Custom Xmas themed) with color changing foulard. Shows some wear, but performable. $10.00
JOHN CALVERT'S TORN & RESTORED MAGAZINE PAGE
- - - - - - - - - - - with samples $2.00


JUAN MAYORALE'S MAGIC - with candle & appearing cane (chrome) & Circle to Square to cane. - many routines - $45.00

KATCH-0-KARD - Jack Chanin - vintage, Gimmick to catch cards from the air. $3.00


KIKUCHI FIRE BOX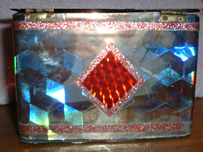 - REAL RARE
This is an original Kikuchi Fire Box that has been modified. The original was triggered by a flint wheel, this one is battery operated, triggered by a momentary contact switch. It also has top and bottom flap doors.. The top door is opened and closed by a lever on the outside. The box is decorated in silver and red sparkle. $100.00

KLIP-TRIK -(have 3) starts as the old optical illusion - but then the odd card vanishes from the spread. GREAT WALK AROUND - $2.00

LEVITATE - (have 4) FLOAT small objects, even a bottle. - leaves hands absolutely clean. $2.00

LIEBENOW'S CHIPS ROUTINE with special chips and shells - RARE - $25.00


---
M MOUSE COSTUME HEAD (DE LUXE MODEL)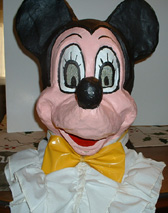 Average adult size - sits on person's shoulders.
Ear span - 15" - - head/face span - 9 1/2" - - 13" high
With mesh grill eyes and grilled mouth area so person inside can speak.
With large yellow bow tie and triple layer white bib. Very clean. It was always cleaned and disinfected after each use.
. . . . . . . . . . . . . . . . . IN GREAT SHAPE - - - - $75.00
Costume houses are selling it for $150.00

---

MAGIC MANOR - Sid Lorraine - vintage - Great MC bit. - $15.00
---
MERV TAYLOR'S PRODUCTION CAGE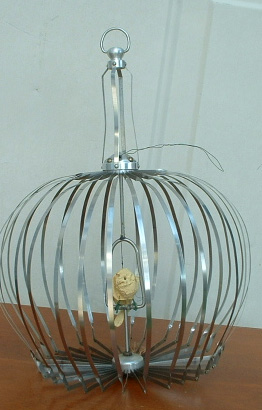 - ORIGINAL - COLLECTABLE - MINT - $200.00
---

METAMORPHO SPOTS - original Finchel -with silks - LIKE NEW - $25.00

MIDAS COIN BAG (A Deluxe TOM THUMB COIN BAG ROUTINE (have 3) - $10.00 EA.
MIND SET No.1 - Original Gregory Edmonds mental release with hree effects:
1 - The Triple Threat BookTest
2 - The Final Addition
3 - They Melt In Your Mind(Not In Your Hand)
---------------------------$5.00
---


MIRACULUS - SILK THROUGH MIRROR - Lrg. size EXCELLENT CONDITION IN PROTECTIVE COVER - $35.00

MIS-MADE QUEEN - JUMBO CARD SIZE - ZIG-ZAG IN CARD FORM - $35.00

MORGAN'S NESTO CANDLES -vintage - NESTED PRODUCTION CANDLES - COLLECTABLE - $ 75.00

MULT. BILLIARD BALLS - (have 3) ONE SPARKLE - 2 IN RED - excellent condition - $10.00 ea. 2 SOLD - ONE RED LEFT

NU-DIE MYSTERY - Kenard - wood - VINTAGE - $10.00

OKITO BOX ROUTINE - BEY'S -(Classics of Magic) - vintage Manuscript - $5.00

PERSPEX PREDICTION - Great mental effect. Six cards placed around a transparent board. You predict what card a spectator will choose NO FORCES. - - - Now costs $45.00. - This one is in excellent condition for $25.00

---
P&L VANISHING WAND -

VINTAGE - Wand and tips for shell are in SUPER CONDIION.. Has 6 of the original shells . Box shows light wear---$85.00
---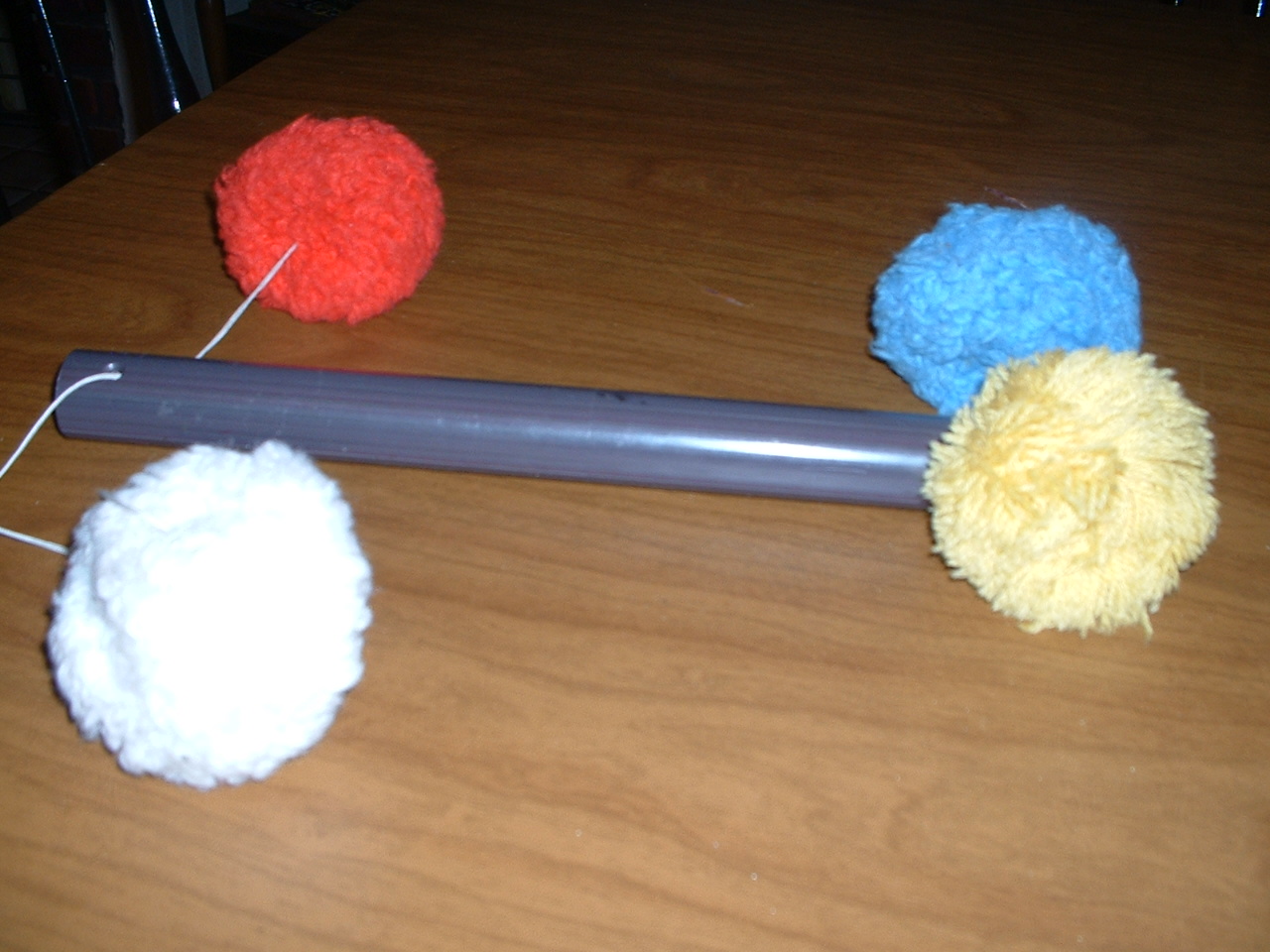 POM POM PRAYER STICK -
Four pom poms on a long stick seem to be all joined together by pulling on them, But you take the stick apart at the middle to show that there is no connection between ends. - Now selling for $145.00 . Made famous by Ali Bongo and Doug Henning.
Stick is 14 1/4" long - Pom-poms are 3" in diameter.
Get this one, IN EXCELLENT CONDITION, for $50.00
---


POP-UP CANDLE . Production candle that folds in half to be hidden in hand. Pops up for production, Battery operated. -- $15.00

PRODUCTION STREAMER (SILK) - 30 FEET LONG X 6 1/2 INCHES WIDE. -Extra thin, requires less room - brand NEW - Still in wrapper - $25.00

PUPPET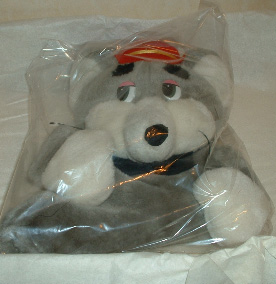 (Cute) hand puppet - - $5.00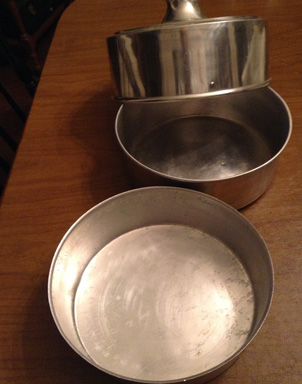 RABBIT PAN
LRG SIZE: 11" DIAMETER - 4' deep - Single load
Large enough to accomodate a small (dwarf) rabbit
Used, but in good condition.
Made by Morrissey - Canada
$65.00
---
RAINBOW PRODUCTION STREAMER - 10 FT. X 4 IN..- $10.00
---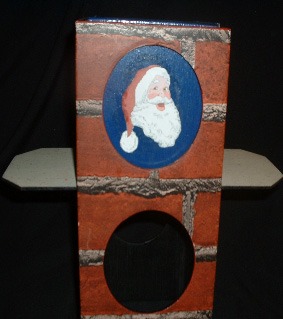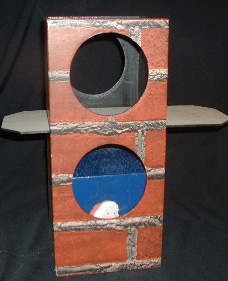 SANTA'S CHIMNEY
PENETRATION


A board is placed across the middle of the chimney, blocking the top portion from the bottom. A large block with Santa's head in inserted into the chimney so that it rests on the board. Then at your command, Santa penetrates right through the board, into the bottom of the chimney.
Don't know who made it, but its OLD!
The penetration is visual.
$200.00
---

SILK CABBY -

vintage -
With hinged doors, both front and back. Silks can be inserted or extracted through the holes in either end of the Cabby. Silks can be made to vanish, appear, or change -- and it can be done surrounded. The box can be shown empty at any time during your routine. - They now go for over $100.00 . - - - Get this vintage model for only $60.00


SOLARI'S MINI CARD BOXES -Wood, finely made by Solari. Routines with variations. These boxes now sell for $99.00. These are in excellent condition, - $65.00

SPOON FORK MYSTERY - A FORK AND A SPOON CHANGE PLACES. - $10.00
STOP LITE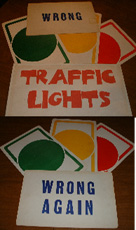 - The original version with 6 3/4" X 10 1/2" cards.
Complete with 'WRONG" / 'WRONG AGAIN card. Comes with a customized folder to place the cards into as you do the trick. The front of the folder reads 'TRAFFIC LIGHTS'. When you open the folder for the finaale it reads: 'DRIVE CAREFULLY - THE LIFE YOU SAVE MAY BE MINE.
In GOOD CONDITION - - - - $20.00
---


TAMBOURINE RINGS FOR PRODUCTION - vintage. For the production of paper coils - - $10.00
THOUGHT MASTER, Bill Nord's - VINTAGE - A small transparent plastic box (original) full of newspaper clippings - Complete with original instrutions - $5.00

THUNK (gimmick that makes a thud sound) Great for spook type effects. It has a delayed action. Only $1.00


ULTIMATE 3 CARD MONTE - Mike Skinner - $3.00

VANISHING CANE - FANTASIO - Plastic - White - for Cane to Silk - WITH 18" SILK - $15.00

VANISHING CANE - FANTASIO - Plastic - Red - for Cane to Silk - WITH 18' SILK - $15.00

VISHNU PERFECT ROPE MIRACLE - vintage - GOOD ROPE ROUTINE - MANUSCRIPT - $ 2.00

XMAS (HOLIDAY CHARACTERS) EFFECT - JR - ala Stop Lite - custom - one-of-a-kind. GREAT KID TRICK - $10.00
---


SPECIAL::::::
Harry Potter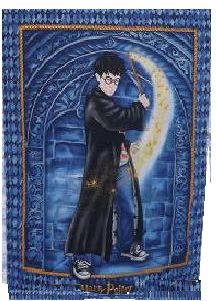 Cloth Panel
Harry Potter - Panel measures approx 36" x 45". it has Harry with his magic wand flourishing magical gold glitter swirls and stars on blue design background. Panel measures approx 36" x 45". it has Harry with his magic wand flourishing magical gold glitter swirls and stars on blue design background. It is imprinted on bottom with: Harry Potter ™ & © WB. #9189 Springs Industries, Inc. © This product is intended solely for non-commercial home use. Not intended for use in children's sleepwear.
(Got this when I did a Harry Potter Promotion for CocaCola for the first HP movie.) - - - $50.00
---
COINS
($5.00 minimum on coin orders)
MINI COINS
- SET 1 - Metal - (Penny, Nickel, Dime, Quarter, Kennedy Half, Ike Dollar) - $5.00 per set. - 5 Available

- IKE DOLLAR - metal - $1.00 ea. - 6 available
- KENNEDY HALf - metal - $1.00 ea. - 5 available
- QUARTERS -metal - Set of 2 - $1.00 - 2 sets available
- DIMES - metal - Set of 5 - $1.00 - 7 sets available
- NICKELS - metal - Set of 5 - $1.00 - 7 sets available
---
LARGE
DIME (Metal) - 1 1/16" - $2.00
NICKEL - (Metal) - 1 7/16" - $3.00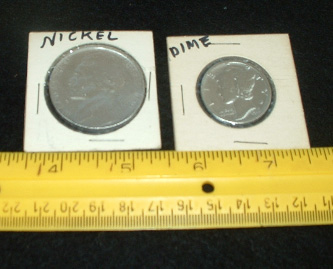 ---
PLASTIC COINS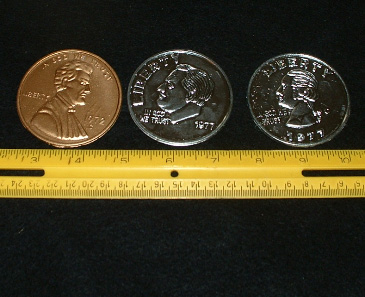 2 1/2" (Sets of Penny, Dime, Quarter) - $1.00 per set


COIN TRICKS & TRICK COINS
HOPPING HALF - Sells for $65.00 - Get this one for $45.00 -I have one
SILVER, COPPER, BRASS - Sells for $69.00 - This one goes for $50.00 - I have three.
EXPANDED HALF DOLLAR - Sells for $35.00 - Get one here for $20.00
(Great for Coins across - comes with 3 regular Halves for that purpose)
MAGNETIC HALF DOLLAR - Sells for $25.00 - get one for $15.00. I have two.
OKITO BOXES - (A) Old style with small hole on top and bottom.
This one is about 50 years old) - $25.00
....................................(B) Newer version, heavier - $15.00
NOTE------ALL COIN SHELLS ARE MADE FROM REAL COINS

CLICK TO GO TO:
CLICK HERE TO GO TO
BOOKS - MANUSCRIPTS - PAMPHLETS PAGE

© 2011 - 2018- JAMES RAINHO