GOD BLESS AMERICA AGAIN - Written by Bobby Bare - Sung by Tex Ritter

---
---

Member of the International Brotherhood of Magicians, Society of American Magicians, International Magicians Society, Psychic Entertainers Association, Associação Portuguesa de Ilusionismo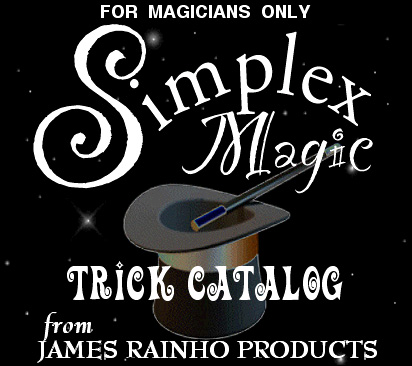 NOTE - - - Limited supplies available - Email first <magicjim@rainho.com> inquiring if item(s) you want are avaialbe. Indicate full name of item and stock (#) number.
NOTICE::
Health issues are forcing me to retire.

so, SIMPLEX MAGIC IS UP FOR SALE,
WHICH INCLUDES THE RIGHTS TO OVER 100 ITEMS THAT I CREATED, including FLASH/OMEGA PRODUCTION CANDLES, ORIGINAL SAFE INVISIBLE DOVE HARNESS, SELF CONTAINED FOUNTAINS OF SILKS FOR DOVE, CANDLE, TALL GLASS OF LIQUID, ALL BALLED UP, ACID MADNESS, GREAT EGG TRICK, FLOATING FLOOD LIGHT, AND MANY, MANY MORE ORIGINAL ITEMS.
LOOK OVER MY PAGES ON THIS SITE TO SEE ALL THE ITEMS. I also make some utility props.

ALL ARE EASY TO MAKE WITH JUST SIMPLE TOOLS IN A HOME WORKSHOP (Drill Press, Band Saw, Small Table Saw, Hot Glue Gun, Table top Paper Cutter, Small Laminator, Soldering Gun, and common hand tools.

Raw materials are easily acquired at Craft Stores, Hardware outlets. etc.
And you don't have to deal with dealers and wait for payments. Do what I've been doing for the last ten years, since I cut out supplying magic dealers for obvious reasons. I just sell through the internet, receiving immediate payment through PayPal.

HOW EASY IS THAT???

I started manufacturing my products and selling them through Holden's Magic Shop in Boston in 1954, When Holdens closed down I went at it full scale, full time, along with performing. I published my first magic Catalog in 1966, and put out five more after that. Simplex Magic has been in business for fifty years.

IF YOU ARE A RETIRED PERSON WITH LOTS OF FREE TIME AND HAVE AN INTEREST IN MAGIC THIS IS FOR YOU. I will go to your location and help you set up and teach to build the various items.

You will get all the current stock, raw materials/supplies I have in stock.
ALSO the rights to www.mgiciansRus.com website

For info call Jim Rainho at 781-391-4104 - email = magicjim@rainho.com
SERIOUS INQUIRIES ONLY - PLEASE
SPECIAL
INTERNET
MAGIC YARD SALE

OVER 150 ITEMS - STAGE, CLOSE-UP, KIDS, MENTALISM, VINTAGE, COLLECTABLES, & ONE-OF-A-KIND

MAGIC TRICKS & PROPS.
STAGE - PLATFORM - CLOSE UP - MENTALISM.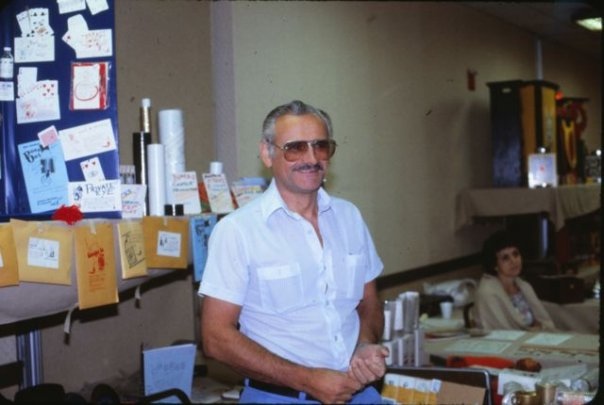 .........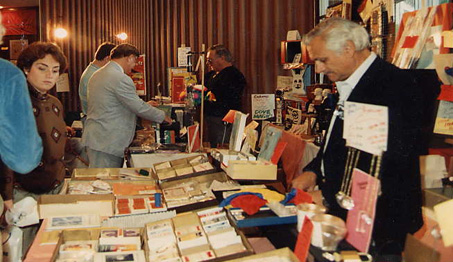 ..........................................Simplex Magic booths at Magic Conventions
NOTE:
All Jim Raimho's products are US MADE.
LINK BOX
CATALOG PAGES
WE ACCEPT

PAYMENTS
If paying by PayPal, shipping, insurance, and handling fees will be calculated at checkout. You will be notified if fee is under estimated. Estimations are generic and may not be correct for all locations.

---

OR YOU CAN PAY BY STANDARD MAIL WITH CHECK OR MONEY ORDER

CLICK HERE TO GO TO OUR MAIL ORDER FORM

MINIMUM ORDER AMOUNT IS $25.00

TAKE ADVANTAGE OF THE POKER CRAZE GOING ON - feature: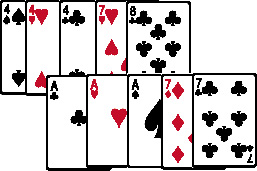 'WHAT A POKER DEAL'
In Your Next Adult Show!
You play three hands of Poker with a spectator and never lose. NEW CLEAN METHOD. NO SLEIGHT OF HAND. Ten cards are shown and shuffled by a spectator. You then deal out two Poker hands to spectator and yourself. YOUR HAND WINS.
Have the cards shuffled again but this time instead of dealing out the cards you have the spectator tell you whether or not he wants a particular card as you go through them. Give him the cards he wants and you take what you want. STILL HE LOSES.
Spectator shuffles the cards again for one more hand. This time you deal out two hole cards, one to the spectator and one to yourself. The cards are now held with faces showing and the spectator can choose if he wants the card showing. BUT he also controls the cards you get because the ones he rejects become your cards. HE STILL LOSES.
Great routine with a Himber wallet where, at the beginning, you show three bills in the wallet and wager them in the three Poker hands, each time showing the bills. At the end you you say, "Don't feel bad sir, look, we weren't playing for anything anyway." YOU SHOW THE WALLET EMPTY. THIS IS A GREAT CLOSE UP WALK AROUND ROUTINE. I use it on every close up gig and also, with Jumbo cards on EVERY adult show.

Regular Poker Cards - -$ 15.00 ==== Jumbo Cards $18.00
(Note: Himber wallet not included.)
SEE ALL OUR MAGIC PRODUCTS \ ON THE PAGES LISTED ABOVE.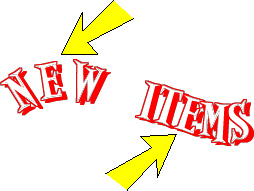 CLICK HERE TO VIEW THEM
DON'T MISS THE
MASTER KEY CARD
EZ TO DO MAGIC TRICKS
For Beginners & Children
---
GO TO OUR
Welcome fellow Magicians.
Simplex Magic has been manufacturing the Magic of Jim Rainho since 1955 when we built exclusively for Holden's Magic Shop. We published our first general catalog in 1966 and have been producing some of the most original magic in the business. We were the originators of the Electronic Production Candles: Flame Of Kan-Del & Omega Electronic Candles, We originated self-contained SILK FOUNTAINS for doves, candles, and glass of liquid. We invented the Color Changing Records, and we were also the developers and first to introduce a safe Invisible Dove Harness - along with many other innovations in the magic field.
Please visit our web pages for Close-up, Stage/Platform, Mentalism, and Props
Have a Magic Day.......
Jim Rainho
---
OUR COMPLETE LINE IS LISTED ON THIS WEB SITE
We have separated the items into four categories: STAGE (platform, parlor, etc.) - CLOSE-UP - MENTALISM - UTILITY PROPS
T BOTTOM OF THIS PAGE






CALL or EMAIL us.
email: magicjim@rainho.com

781-391-4104




\
© 1998 - 20 04 - James Rainho / Abra-Kadabra Magic Systems
---
For: Magic Tricks, Illusions, magic shops, magic shop, magic props, tricks you are in the right place,
Let me emphasize:
Magic Tricks, Illusions, magic shops, magic shop, magic props, tricks you are in the right place, Magic Tricks, Illusions, magic shops, magic shop, magic props, tricks you are in the right place, Magic Tricks, Illusions, magic shops, magic shop, magic props, tricks you are in the right place, Magic Tricks, Illusions, magic shops, magic shop, magic props, tricks you are in the right place, Magic Tricks, Illusions, magic shops, magic shop, magic props, tricks you are in the right place, Magic Tricks, Illusions, magic shops, magic shop, magic props, tricks you are in the right place, Magic Tricks, Illusions, magic shops, magic shop, magic props, tricks you are in the right place, Magic Tricks, Illusions, magic shops, magic shop, magic props, tricks you are in the right place, Magic Tricks, Illusions, magic shops, magic shop, magic props, tricks you are in the right place, Magic Tricks, Illusions, magic shops, magic shop, magic props, tricks you are in the right place, Magic Tricks, Illusions, magic shops, magic shop, magic props, tricks you are in the right place,